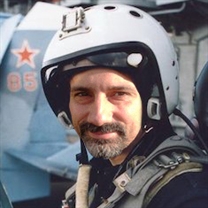 Semyon Béliy
(Ansirial)
Details
Platform
Digital Combat Simulator
---
Last logged event
Sunday, 27 June 2021
(27/06/2021 17:39)
17/08/2020
Awarded with "Medal of the Order "For Merit to the Fatherland" 2nd Class with Swords"
02/08/2020
Awarded with "Cross of Saint George 4th Class"
29/07/2020
Awarded with "Order "For Military Merit""
06/06/2020
Awarded with "Medal of Nesterov"
05/06/2020
Event
OVER THE HUMP
Operations have begun that will lead to the eventual airborne assault of two key enemy airbases. Separating us and the enemy is a large mountain chain we term "The Hump". You will pilot a MiG-29S fighter in support of this operation.
17/05/2020
Awarded with "Medal for Courage"
11/05/2020
Awarded with "Courage Order"
01/05/2020
Promoted to "Leitenant"
01/05/2020
Transferred to 14th Regiment
01/05/2020
Event
FORTRESS MOZDOK
With increased tensions in the region since a recurrence of hostilities in Abkhazia, the United States has forward deployed air assets to both Gudauta and Sukhumi air bases to ostensibly act as "peace keepers" in the region and avoid a military escalation between Russia and Georgia. The strength of this deployment indicates otherwise though poses a significant threat to our interests in the region.

Georgian forces have once again taken illegal action against the citizens of Abkhazia and the United States, and any other country, has no right to interfere with this internal affair. It is the right of Russia to ensure stability and the protection of ethnic rights in Abkhazia.

To have the assets in place to best counter outside interference, the 3rd IAP Su-27 unit based at Krymsk has been deployed to Mozdok in order to reduce reaction time to threats originating from Georgian airspace.

Su-24 from the 16AK at Mikhaylovka - Lebyazhe have also been deployed to Mozdok, as well as a detachment of A-50 AWACS from Ivanovo - Severnyy in the Moscow military district. Additional assets may be moved to Mozdok if conditions change.

We sincerely hope it will not come to it, but we must be prepared for military action in the near future.